P-LPWB2X
FlameBlock Fire Retardant OSB Sheathing - Treated 2 Sides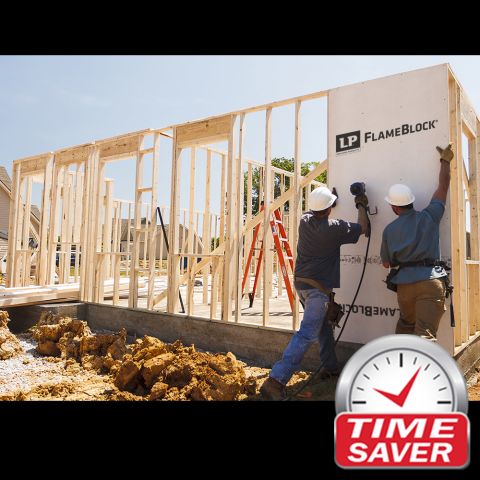 LP® FlameBlock® Fire-Rated OSB Sheathing gives you the freedom to design a more efficient wall. It eliminates the need for an extra layer of gypsum, speeding construction time and reducing material and labor costs.
LP FlameBlock Fire-Rated OSB Sheathing is certified to meet fire code compliance and delivers higher design values than FRT plywood at the same thickness.
LP FlameBlock sheathing has the versatility to be used in Type II, III and V construction, and is a listed component in fire-rated interior wall assemblies, exterior wall assemblies and roof deck applications.
With LP FlameBlock Fire-Rated Sheathing's water-resistant adhesives and durable Pyrotite treatment, each panel carries an Exposure 1 classification, so it can withstand exposure to moisture during normal construction delays. As with similarly classified panels, installation of building wrap is required for weather protection during construction.
LP FlameBlock Fire-Rated OSB Sheathing is environmentally friendly, with no hazardous chemicals, and carries a 20-year Transferable Limited Warranty.
Combination of flame-spread resistance and burn-through resistance
Reduces labor costs and construction time
Code-compliant for a variety of different 1-hour and 2-hour fire-rated assemblies
Class A Flame Spread Rating
Won't cup, warp, split, or delaminate