P-SSQUADMAX
OSI Quad Max Caulk for LP SmartSide
Engineered Wood Siding
MPN: P-SSQUADMAX
P-SSQUADMAX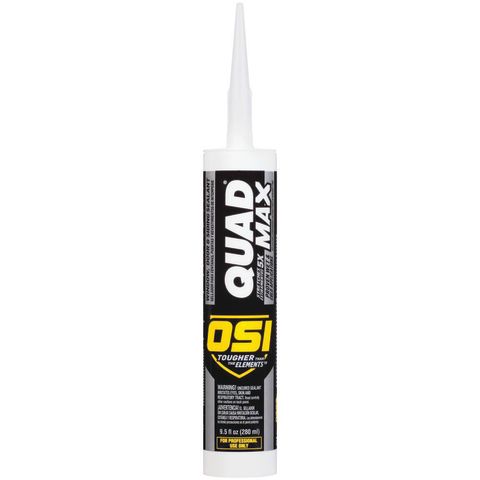 QUAD MAX siding & window sealant is designed for sealing around interior/exterior windows, doors and siding. It bonds to a wide variety of materials without need for a primer, including fiber cement, cedar, brick, stone, coated aluminum, fiberglass, vinyl, PVC, stucco, EIFS, wood, glass, and flashing tapes and Kynar® coatings.
This Quad Max caulk matches LP SmartSide prefinished siding colors to take the guesswork out of color matching. It offers long-term durability against the harmful effects of sun exposure, resists bubbling and has no shrinkage. Proven to stick on wet and cold surfaces, it is easy to use in all temperatures and has a fast 24-hour curing time.
Quad Max caulk comes in 9.5 ounce tubes and is sold 12 tubes per case. Where lap meets trim, match caulk to the color of the siding. One tube will cover approximately 20 linear feet with a 3/16 inch gap as required for SmartSide installation.
Calculation example: (20) Pieces of SmartSide 5/4 in x 4 in x 16 ft trim equals 320 linear feet. (6) Pieces of 5/4 in x 4 in x 10 ft outside corner trim equals 120 linear feet (a caulk joint is required on both sides of a piece of corner trim). This total of 440 linear feet would require 22 tubes of caulk.
Additional caulk may be needed for soffit and fascia of a different color, depending upon installation technique. One tube will cover up to 96 inches with only a 1/8 inch gap needed when caulking soffit and fascia joints.
Note: Do not tool or smear/feather on prefinished colored siding and trim, as this will reduce any sealant's ability to withstand UV exposure and joint movement. Do not use as a nail hole filler or in touch-up applications on prefinished exterior building materials. Follow manufacturer's instructions for nail hole filling. Not recommended for field joint/butt joint applications on pre-finished exterior claddings and trim materials.
Features:
Proven wet surface application
Better flexibility: 5x stretch & 50% joint movement
Consistent bead in hot or cold temperatures: 0°F to 140°F application
24-Hour fast cure for quicker protection & paintable in 1 hour
Enhanced UV resistance