P-BC010612TLS48
Transcend Lineage 1" Square Edge Board
Deck Boards
MPN: P-BC010612TLS48
P-BC010612TLS48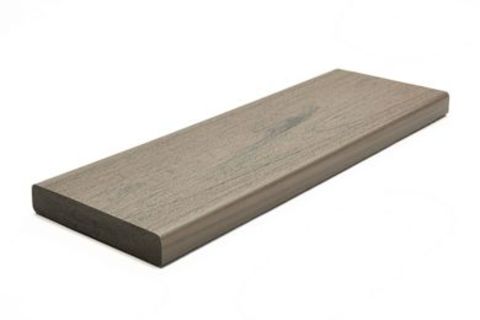 Trex Transcend Lineage features delicate wood grain streaking and tranquil tones. Transcend Lineage comes in two lighter, on-trend colors: Biscayne and Rainier. These tranquil tones create a clean canvas for outdoor spaces.
Biscayne is a light coastal brown that captures the beauty of mangroves and sandy coasts, featuring light honey hues and a natural grain pattern. Rainier is an airy mountain grey that mirrors white-capped mountains and wooded sounds with its subtle silver tones and delicate grain pattern.
Engineered to keep decks cooler*, Transcend Lineage reflects the sun, as well as a sense of style. Transcend decking maintains its vibrant color and luxurious finish—come scorching sun or red-wine spill—thanks to its unyielding shell protection.
Trex Transcend Lineage square edge boards install traditionally like wood--with deck screws. Like all Trex Transcend composite deck boards, Lineage is made of an innovative blend of 95% reclaimed wood and plastic film.
*Note that although Trex Transcend Lineage is designed to be cooler than most other composite decking products of a similar color, on a hot sunny day, it will get hot. On hot days, care should be taken to avoid extended contact between exposed skin and the deck surface, especially with young children and those with special needs.
Installs with deck screws
Lighter tones with subtle streaking
Solid profile for unlimited design possibilities; sturdy enough to handle curves
Designed to be cooler than most other composite decking products of similar cooler
Low maintenance: Cleans with soap and water