3270
#3270 2x4 Vinyl Face Gypsum (4/ctn)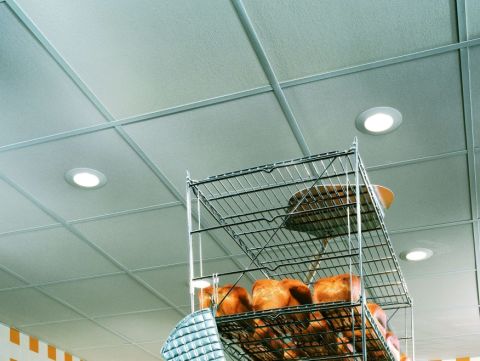 Smooth-Textured panels. Superior fire protection and extraordinary dimensional stability, these face-laminated gypsum panels also provide good ceiling attenuation class values.
Sheetrock® Brand Lay-in Gypsum Ceiling Panels adhere to strict federal standards and USDA/FSIS requirements, and they meet strict requirements for food processing areas.
The panels are perfect for exterior soffits, parking garages, kitchens, food preparation areas, restrooms, utility areas, locker rooms and marine environments.
Gypsum Lay-In Panels are an inexpensive solution for interior and exterior applications. They have USDA acceptance for food processing areas and are recommended for fire-rated construction up to 1½ hours.
Vinyl face gypsum panel
Sound attenuation: 40 cac
Light reflectance: Up to 0.77
Washable and scrubbable surface
(4) Pcs per carton